Green days in Copenhagen
Is Copenhagen europe's greenest city? That's hard to say. But copenhagen has both world-class climate- and ecology-related qualities. There are both visible green solutions and ones that cannot be seen with the naked eye.
Take a look through the window as you approach Copenhagen.
It is a blue metropolis spread across several small islands and along the coast to Øresund, which is also known as the Sound – it's the narrow strait that separates Denmark and Sweden. 
It is also one of the world's busiest stretches of coastal water, and Denmark and Sweden are working to turn it into a maritime national park. The seabed is full of life, because trawling has been prohibited here since the 1930s. Back then this was done to protect shipping more than for the sake of the environment, but fortunately it has also benefited the bottom-dwelling creatures. Despite the fact that more than four million people live in the Øresund region, the Sound is still a living conduit between the Baltic Sea and the world's oceans for fish, marine mammals and salt water.
From the plane you can also see the wind turbines – the most obvious symbol of the green transition in which Denmark and Sweden are both profoundly engaged. There are large wind farms in the sea south of the Øresund Bridge and on Middelgrunden off the port of Copenhagen. There are several large onshore wind turbines too. On windy days, wind turbines in Denmark deliver enough electricity to supply the entire country as well as export their surplus to neighbouring countries. On calm days, hydropower electricity may be imported from Norway and Sweden, which have a lot of water but somewhat less wind than Denmark.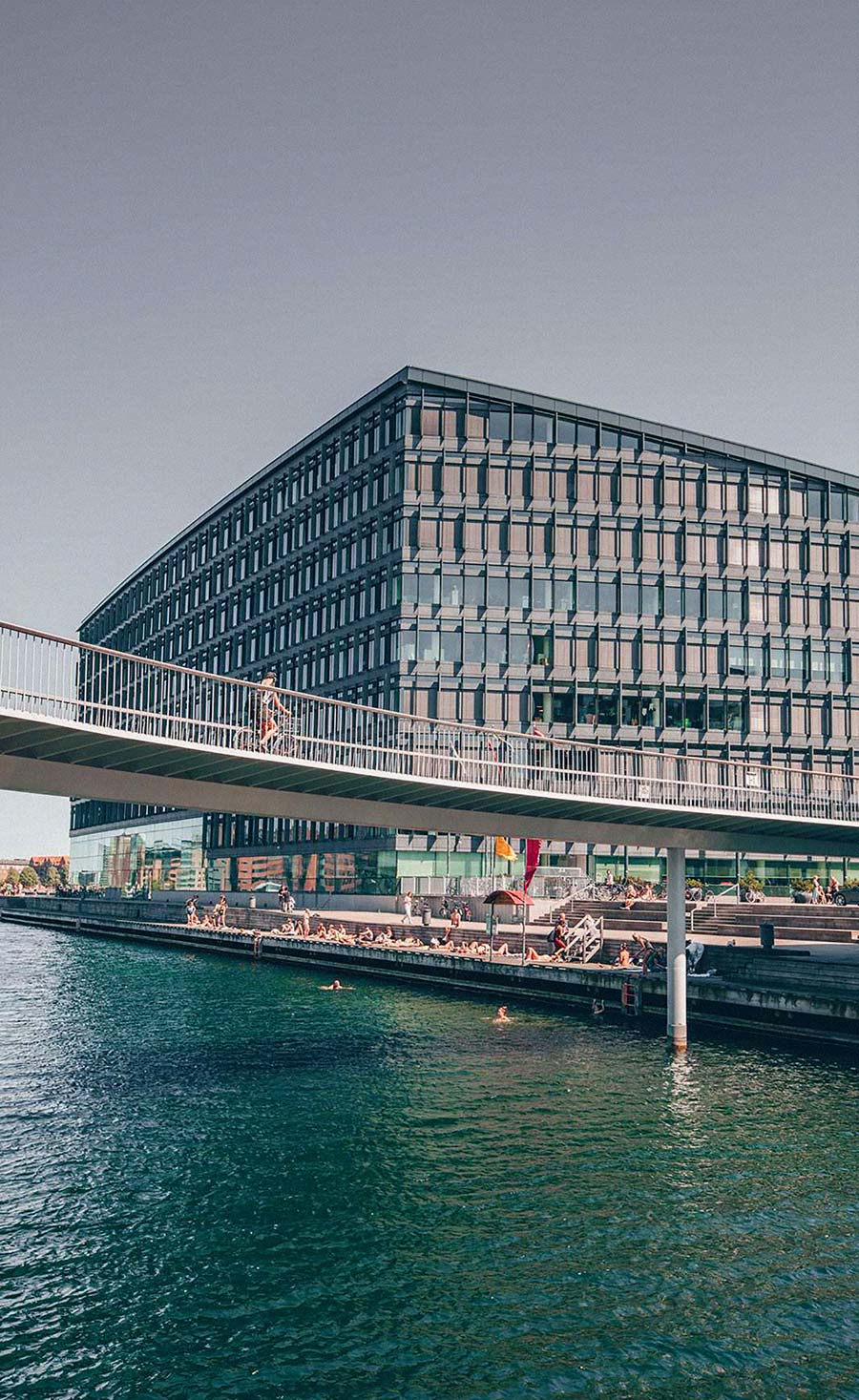 Continue from the airport towards the city. The metro is both the cheapest and fastest method, and after the circular line expansion – said to be the largest construction project in Copenhagen's history – it is possible to get around almost all of Copenhagen's suburbs underground. On the surface above, it is particularly bikes that dominate the street scene. Copenhagen is a cycling city, thought it took a long time for it to become fashionable and politically correct to get on a bike. The very absence of high mountains and hills makes Copenhagen a good city for cycling in.
But in recent decades, Copenhagen Municipality has been working to make cycling more attractive with streets that are closed to cars and several bicycle and pedestrian bridges across the harbour. It is the municipality's goal for 75 per cent of all journeys in Copenhagen in 2025 to be made by bicycle, on foot or by public transport. Today the figure is 70 per cent. Tourists too are also highly recommended to get around the city by bike. It is quick, and leads to a completely different experience of the city. For example, try Copenhagen Bicycles in Nyhavn, right by the bicycle bridge leading to Christianshavn and Holmen.
Another phenomenon you don't see in many other cities is cheerful summer visitors jumping into the water at the harbour baths. There are harbour bathing areas on Islands Brygge and Sluseholmen. Here you can take a refreshing dip in the harbour, which has historically been a far from obvious possibility. As late as the early 1990s, bathing in the Port of Copenhagen was hazardous to one's health due to the presence of heavy industry in the city. From the harbour bathing area at Fisketorvet, you can look across to the former silos of the Soyakage factory, whose products included chlorine. When the factory exploded back in 1980, it left the entire neighbourhood a wasteland. Today, the industrial activities have gone, the area has been cleaned up, and it is quite safe to bathe here. Please note that the supervised bathing areas have access restrictions and restrictions relating to coronavirus.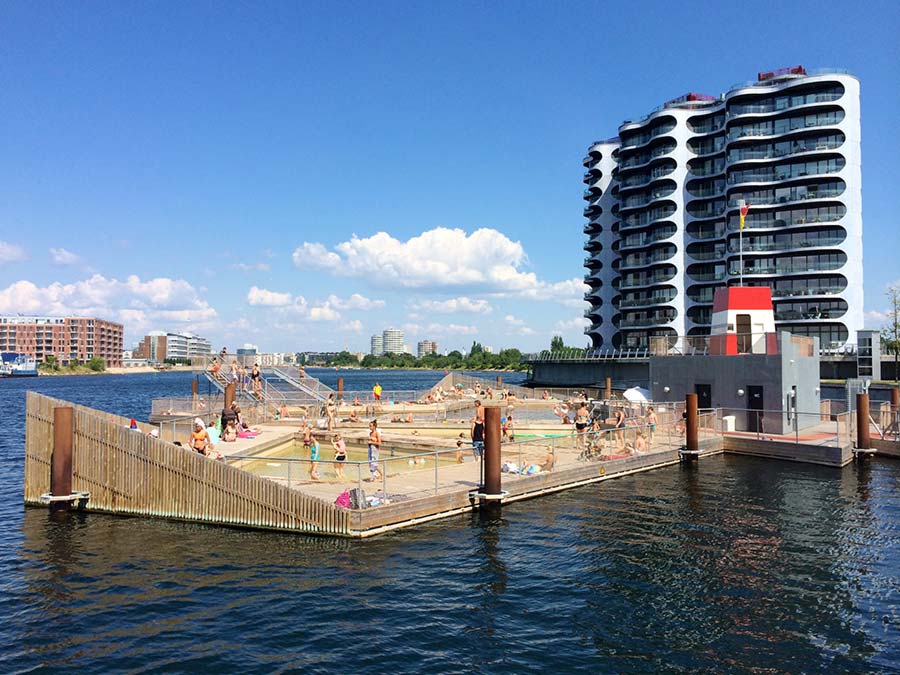 Where to go and get some food and maybe a glass of wine that possess green credentials?
In the summer of 2020, the best bet is Den Grønne Kødby ("The Green Meat District") in Vesterbro's Meat Packing District, which will place the focus on entrepreneurship that is devoted to green cuisine. That includes culinary entrepreneurs like the Kitchen Collective food cooperative and the food innovation establishment CPH Food Space. Meanwhile, the street cuisine will frame a series of concerts. Every Thursday through Saturday, there will be music from DJs and up-and-coming artists on Den Grønne Kødby's new pop-up stage, at least to the extent that is permitted by government coronavirus guidelines. Den Grønne Kødby will continue until the end of August.
Another food market with a green profile is Reffen on Refshaleøen. Many of the stalls are organic, and their rent is quite simply reduced if they are certified to meet Denmark's organic inspection criteria. There is also an ambition to be the first street food venue producing its own organic ingredients.
There are also many sustainable choices if you like to eat out with a knife and fork off a white tablecloth –and if you are visiting outside the food markets' season. Geranium – Copenhagen's finest (and solitary) three-star Michelin restaurant – uses organic and biodynamic ingredients. The head chef, the former winner of the Bocuse d'Or, Rasmus Kofoed, was raised with biodynamics and swears by it – partly because of the superior taste.
Another Copenhagen star chef with a green profile is Christian F. Puglisi from Relæ, voted the world's most sustainable restaurant by the Sustainable Restaurant Association for two consecutive years.
Finally, don't cheat yourself of a visit to Gro Spiseri, a restaurant with a connection to Copenhagen's first and largest rooftop market garden. The menu changes during the season, which of course reflects what is growing here on the roofs of Copenhagen.
As night approaches, finding a sustainable hotel is easy – possibly easier than finding one that isn't. Many of the largest chains and small family-owned hotels are eco-certified, which means that they are committed to such things as reducing their energy consumption, sorting their waste, etc. You can find the list of eco-certified hotels at VisitCopenhagen:
https://tinyurl.com/VisitCopenhagenEco
Copenhageners enjoy seeing themselves as highly environmentally conscious. But the reality is of course rather more complicated. If you take a deep breath on Rådhuspladsen during the rush hour, you will still draw a substantial portion of diesel soot into your lungs. But the objective is for Copenhagen to be the first climate-neutral capital in 2025.
Until then, whether we are Copenhageners or visitors from elsewhere we are surely making a manageable contribution by sipping some natural wine and eating organic gourmet food as we look out across the blue-green pearl next to the Sound.