What's happening on the restaurant scene in 2020? As always, new developments are a constant feature. An entire new neighbourhood has been incorporated into the dining scene and is now the city's gastronomic hotspot. And new inspiration keeps arriving from the world outside.
Copenhagen's most famous restaurant has followed the burger trail
How did Noma, Copenhagen's most famous restaurant, manage to survive the coronavirus crisis? The restaurant, which epitomises the new Nordic cuisine, and which has topped the list of the world's best restaurants for many years, decided to start passing burgers across the counter. Accordingly, the most talked-about restaurant news in 2020 focused on a product whose designation – but not its essence – brought to mind the Golden Arches of the world's biggest fast-food chain. Norma generated both worldwide publicity and a line requiring up to three hours of dedication prior to closing their burger and wine bar at the end of June. Then they went back to the three seasonal menus Noma has been concentrating on in recent years: Fish and seafood in the spring, vegetarian dishes in the summer, and game in the autumn. However, due to the special circumstances of 2020, they chose to operate a summer menu that comprises the best items on the menu of the past few years. In the autumn, Noma will have game on its menu again.
Noma is located on Refshalevej at the edge of Christiania, and though you no longer have to stand in line for three hours, you have to be exceptionally fortunate to secure a table. But do give it a shot.
If you are merely missing an exceptionally good burger – and Bloomberg described it as one of the world's best burgers in 2017 – you absolutely must try what's on offer at Gasoline Grill. Since 2017, the grill chain has expanded to six locations in Copenhagen, but has succeeded in maintaining their high standards.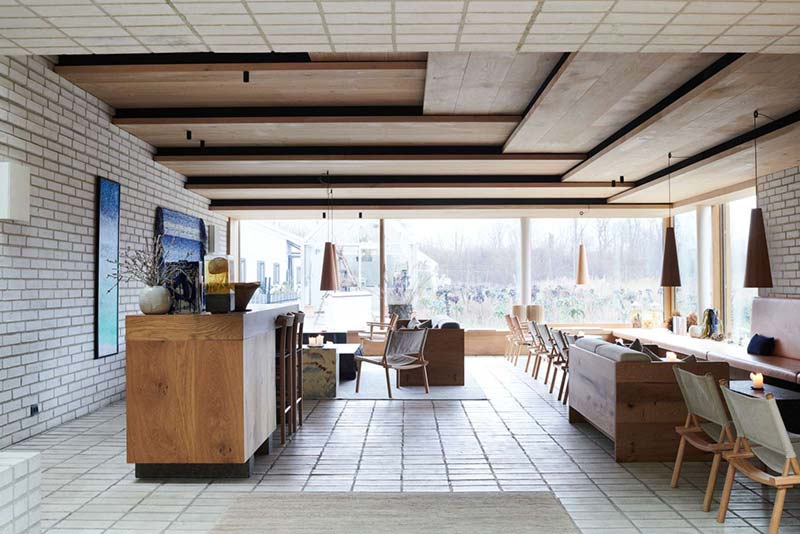 BREAD
Smørrebrød – the open-face sandwich.
Sandwiches are unique to Danish cuisine. Even though the Swedes have their smörgås, it's a type of food that needs to be enjoyed in Denmark – preferably in Copenhagen. This is the opinion held by Danes and not a few Swedes.
Time out: frequently-asked questions
FAQS YOU'LL NEED TO KNOW REGARDING RESTAURANTS, CAFÉS AND BARS
Should I tip?
The short answer is that no, you don't need to add a tip: the general rule has always been that in Denmark, tips are included in the price. When Danes eat out, about half of them will add a gratuity, and the trend is for Denmark to start behaving like the rest of the world. So if the service and the product were okay, leaving a tip is definitely good style.
Can I pay in euros?
Not usually. Some Copenhagen restaurants will accept euros or Swedish kroner. But always ask first.
What is the Danish currency called?
The currency of Denmark is the krone (plural = kroner; also known as the Danish crown). As of the time of writing, 1 krone is equivalent to about 16.4 US cents or 13.5 eurocents. Or, to put it the other way round, 1 USD corresponds to circa 6 kroner, and 1 euro is worth about 7.5 kroner.
Is it expensive?
Denmark has one of the world's highest standards of living, which means it's not a cheap city. In general, its prices can be compared with those you'll encounter in other northern European capitals like Paris, London or Dublin
What does a draught beer cost?
Expect to pay between 35 and 50 kroner for a 50 cl. draught beer. Some places charge a bit more, either because of their location or because you're buying some unusual kind of beer.
What does a café latte cost?
Coffee is one of those items where the Copenhagen prices have leapt ahead somewhat compared with the rest of the world. The good news is that there's a huge number of coffee shops in Copenhagen. The bad news is that a café latte might easily cost you more than 40 kroner.
Can I pay by credit card?
Denmark is one of those countries in which the use of credit cards is most widespread. You can even pay by credit card at a hot-dog stand. Visa is almost universally accepted. In many places you can also use MasterCard or American Express.
Where will I find a good restaurant?
That's a big question. We can personally recommend the restaurants mentioned in this magazine. As in most cities, you'll get the best value for your money if you head away somewhat from those areas that see the most traffic, such as Strøget and Rådhuspladsen. Street food markets are usually good value for money.
Read more on page 20 in our magazine.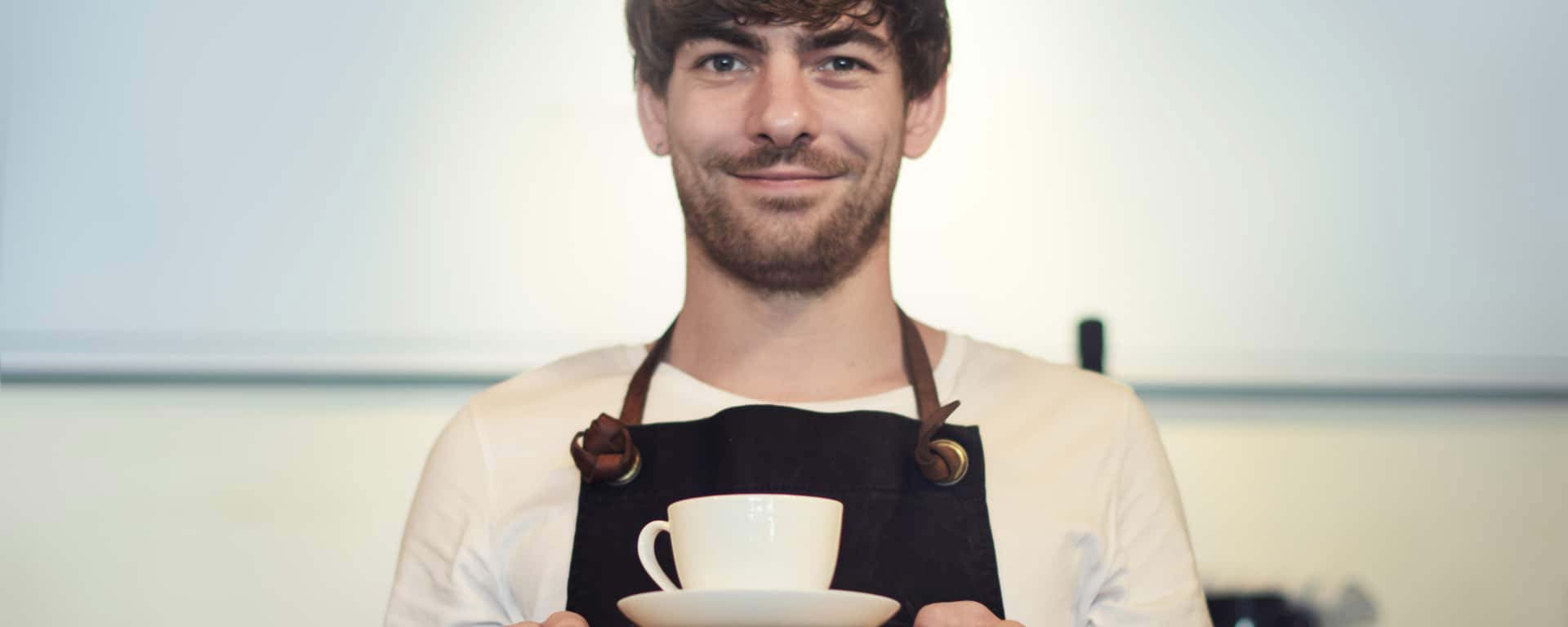 Amalienborg palace is located in the heart of the historic Frederiksstad district, which features numerous embassies and expensive art/design shops, as well as a few restaurants that give you excellent quality for  your money. here are some suggestions for an affordable lunch or dinner next door to the queen.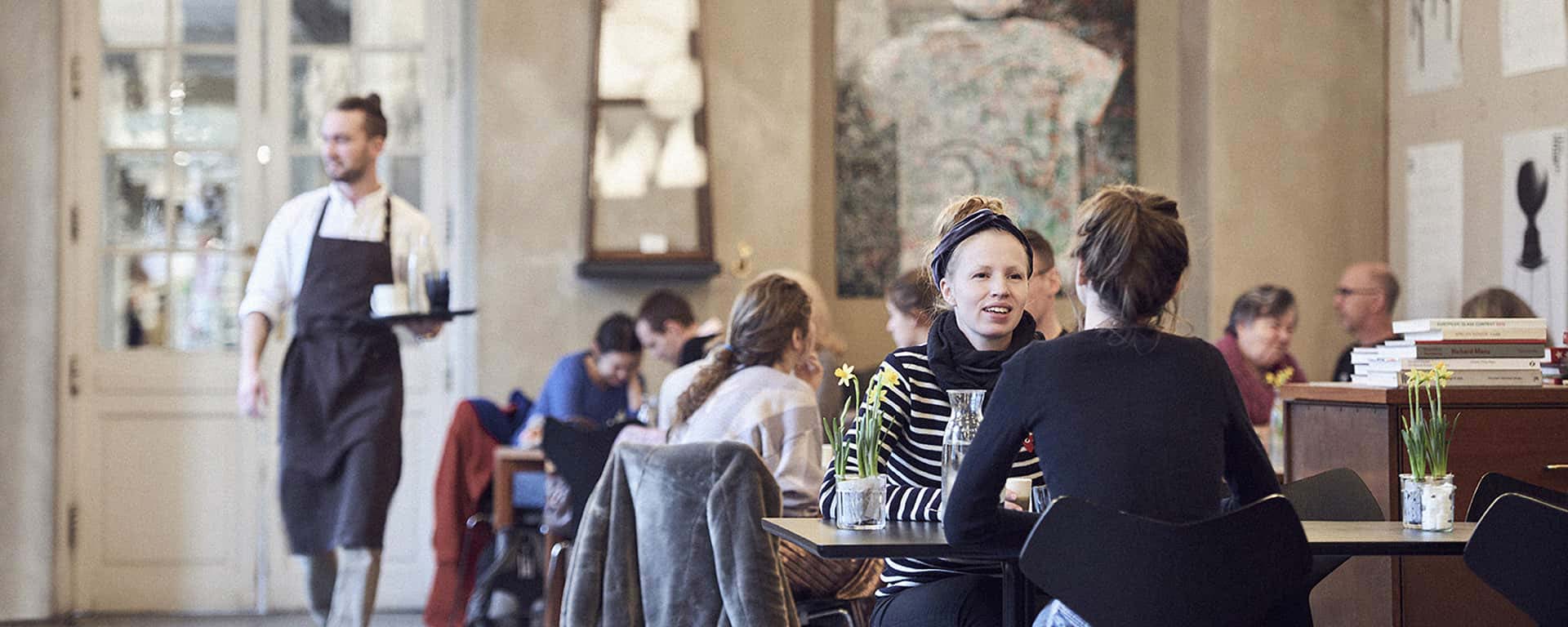 Designmuseet's Café Klint
Even Copenhageners with no interest in design can bring themselves to drop in at Designmuseet ('The Design Museum'), Copenhagen's finest Rococo building, which also features a wonderful and verdant courtyard. Naturally, there's also the café, which serves Danish food with a 'new Nordic' twist.
Please note that like Design Museum Danmark (see page 32), Café Klint will be closed for remodelling for an extended period until early 2022. Stay updated via our website.
Cafe Petersborg has been in Bredgade for so many years that the Russian city of St Petersburg has altered its name four times while the cafe remains largely unchanged. At Bredgade 76, everything is old-school and makes a good choice if you want totally traditional Danish sandwiches.
Salt Bar & Restaurant is located at Copenhagen Admiral Hotel in the maritime environment along Copenhagen's waterfront, close to Amalienborg Palace. SALT is a modern version of the Parisian brasserie, designed by the English architectural firm Conran & Partners. The restaurant is the setting for experiences and stories from when the building was a warehouse in the 1780s. At its centre is awardwinning head chef Rasmus Møller Nielsen, who has created its fusion of tradition and innovation. In 2014, SALT won, for the second time, the Nordic Taste competition during the food festival Copenhagen Cooking.
Addresss Toldbodgade 24-28.